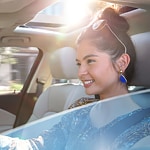 There are many things that need to be factored in when shopping for your teen's first car. At Prestige Auto Mall, we have gathered some of the most important tips to help make the process smoother.
Safety should be the number one priority when shopping for your teen's first car. Read up on the latest available driver assistance features, and be sure to check the safety test scores on any model you consider buying. For many teens, a midsize vehicle is the best bet because they can easily maneuver it while still being protected.
Thoroughly check any used car you are considering for quality. Used cars can save you a lot of money, but you want to make sure you are bringing home something that has been well-maintained. Both you and your teen should test drive any car you are considering to make sure you are both comfortable driving it around Cuyahoga Falls, OH.