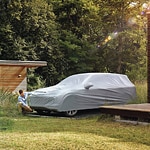 A vehicle represents a major investment, so it makes sense that you would want to protect it. Using a car cover is a small thing that can make a big impact. It's something that we've recommended to many customers at Prestige Auto Mall.
When you think about the exterior of your vehicle, you may realize that a very thin layer of paint is covering your frame. Not only does this paint play an aesthetic role, but it also serves to protect your vehicle from rust and some other types of damage. A car cover can add much more protection when you're parked in Cuyahoga Falls, OH. It can prevent sun damage, scratches, dings, and the build-up of dust, dirt, and pollen.
Unfortunately, theft can be a concern. A car cover can reduce the risk of theft by acting as an extra deterrent. Thieves might not want to take the extra time to deal with a cover.