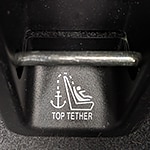 Choosing the right car seat for your child can be a daunting task. There are so many different types and brands on the market that it's hard to know where to start. However, by educating yourself on the different types of seats available and what is appropriate for your child, you can make the process much easier.
There are three basic car seats: infant, convertible, and booster. Infant seats are designed for babies from birth up to about one year old or 20 pounds. Convertible seats can be used in both rear- and forward-facing positions and are appropriate for children up to 40 pounds or four years old. Booster seats are intended for children who have outgrown convertible seats and are typically used until the child is big enough to use a seat belt alone.
When choosing a car seat, it is important to consider your child's age, weight, and height. You will also want to think about how you will be using the seat- will it primarily be for short trips around town or long road trips?-as this can also impact your decision.
If you're unsure where to start, try visiting your local baby store or department store with a good selection of car seats. The staff there should be able to help you narrow down your choices and find the perfect seat for your child.